How to Make a Graphic Design Portfolio for College
Submitted by

admin

on Thu, 06/25/2015 - 11:58
Category: Education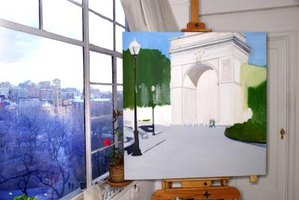 Graphic designers in art markets should have a wide range of skills that include print and multimedia. A graphic designer might work at a magazine or in game design. Potential designers looking to enter an art school, however, need to provide proof of their talents. Creating a portfolio of your graphic design work gives college admission boards this necessary information. Students applying to art schools must also demonstrate their personal skills as candidates and should present themselves as part of a competent portfolio for admission review.
Things You'll Need
Archival and acid-free mats, frames and tissue paper
Image-editing software like Photoshop or The GIMP
USB thumb-drive
Digital camera
Two 60-watt light bulbs
Folio for artwork
Slides
Slide projector
Basic Requirements
Read college admission brochures for information about portfolio requirements. Ask if the college requires slides, original artwork or digital media.
Do not rush preparing your artwork, because this will lead to inferior work. Be aware that college admission personnel judge your portfolio based on quality, not quantity. Choose those art pieces, even if there are only a few items, which are your best efforts. Show that you can do a range of artwork from drawing and painting to multimedia. Use various mediums such as pastels, pencil and digital tools. Have examples of artistic as well as business use for your artwork such as still life drawings, cartooning, signs and logos.
Present your artwork in good condition. Discard torn pictures, blurry slides or multimedia that is not functional. Buy a folio, slide albums or disk jackets that will keep your portfolio safe from tearing, dirt and breakage. Choose folios that are sturdy and durable. Do not skimp on portfolio protection, because a damaged presentation will compromise your admission chances. Store these containers in a safe place away from heat, humidity, foot traffic and dirt.
If you are presenting your portfolio in person, bring any equipment you might need such as a slide projector or a computer to show multimedia, in case the college does not provide it.
Making the Portfolio
Create 35 mm color slides of the artwork if the college want this medium. Take the photographs with a 7 megapixel digital camera or better. Shoot the images at 900 by 600 pixels or larger at 96 dots per inch (dpi) or higher. Use two lights of 60 watts each at a 45-degree angle to illuminate the artwork. Upload and save the images to your computer as JPG files Save the original images in their raw forms and save the altered images. Find a slide service bureau to print the slides.
Scan or upload photographs of your images for digital media. Do not buy an all-in-one printer and scanner if you are only going to use the scanning capabilities. Purchase or get access to image-editing software to edit your artwork. Burn the artwork to a disk, leave it on the computer or port it to a USB thumb-drive as your portfolio medium.
Mat and frame drawings or paintings with professional quality materials. Protect drawings and paintings from rubbing colors off onto other works with acid-free, archival tissue.
Store CDs or DVDs in sleeves or jewel cases. Keep these from breakage in a box or CD case.
Article Source: http://www.ehow.com/how_10070167_make-graphic-design-portfolio-college.html