The Art of Teaching Reading
Submitted by

admin

on Wed, 06/24/2015 - 19:41
Category: Education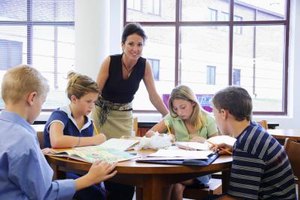 In the opening pages of "The Art of Teaching Reading," author Lucy Calkins discusses how to motivate students to see themselves as lifelong readers. According to Calkins, director of the Teachers College Reading and Writing Project at Columbia University, reading classes should create students who value the knowledge and experience gained from books. While science is essential to reading methods, instruction also depends on the art of teaching children to live what Calkins calls "a literate life."
Science Versus Art
Scientific research directs reading instruction by explaining the way the human brain makes sense of written language. Research also directs teachers toward the most effective methods for teaching vocabulary and comprehension skills. However, in "The Book Whisperer" author Donalyn Miller suggests that research hasn't been effective in explaining why children don't like to read and fixing that problem. The answer to that, Miller claims, doesn't reside in reading programs. She proposes that answer lies in connecting the science of reading instruction to the art of sharing a love of reading and modeling for students the benefits of lifelong reading habits.
Choice Reading
Calkins promotes reading workshop classrooms where students to choose their books rather than reading teacher-assigned texts. While librarians can organize books by genre and reading specialists can rank books by reading level, matching students with books they want to read underlies the art of reading instruction. In "Book Love,"  Penny Kittle, a New Hampshire high school teacher, trumpets what she calls "rigorous independent reading," meaning students read a high volume of self-selected books. Often, Kittle's high school students go from never having finished a book to reading dozens in a year, she says. Kittle asserts that, "The purpose of personal reading is joy, curiosity, and interest -- the kinds of things that are the foundation of my own reading life."
Social Interaction
To develop comprehension skills, students mostly work on their own to build meaning from the text. However, reading also has a social aspect. Readers share books, they discuss ideas they have read about. A National Education association report on effective reading instruction acknowledges that providing students time to talk to each other about books belongs in the instructional process. The social exchanges lead students to become more engaged readers and help them develop critical thinking skills, the report states. It's hard to grade, test and quantify good book discussions, but Miller claims her artful teaching methods result her students achieving high scores every year in the Texas Assessment of Skills and Knowledge, a state-mandated, standardized test.
Avoiding "Readicide"
"Readicide," a term California-based literacy consultant Kelly Gallagher used in the title of a book, refers to practices he believes contribute to a decline in student motivation and inclination to read. Among those practices, he lists standardized tests and test preparation curriculum. Gallagher emphasizes that a key aspect of reading instruction should be teaching students to value reading and engage in the kind of critical thinking skills necessary to find meaning in texts. To Gallagher, the art of teaching reading is balanced approached to instruction that includes studying traditional classics like "To Kill a Mockingbird" and reading books students select based on their own interests.
Article Source: http://www.ehow.com/info_12284457_art-teaching-reading.html